SwissQ Print Karibu
High-End UV-LED roll to roll printer.
There are plenty of roll to roll printers around, but Karibu is unique among them. The highest possible usability was a major development consideration: we sought to give users and businesses a tool that will bring them a competitive edge and also be a pleasure to work with.
Exceptional features make this roll to roll printer the epitome of efficiency and ease of use. Karibu processes virtually any roll material, accurately and reliably, with impeccable print quality. All so typically swissQprint.
Max. productivity 212 m²/h
Colours CMYK + 5 colours
Max. print width 3.4 m
Max. roll weight 200 kg
Get to print more efficiently
A printer that is just as intuitive to operate as the new output software. A cassette system for fast loading and changing of rolls. The built-in Light Box for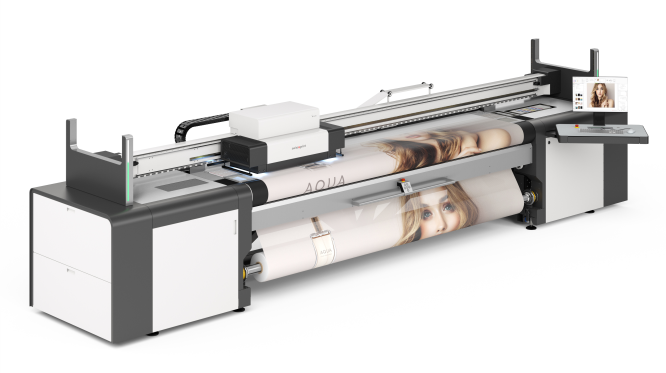 immediate and  continuous quality control of backlit prints. Thanks to the Mesh Kit, printing mesh is effortless and clean with no liner necessary. And with the Lory output software, you can also adjust print parameters post RIP.
Get to print more reliably
Karibu is precise, robust and durable, as expected of its swissQprint DNA. The same with regard to excellent energy efficiency – although this is only one of
the reasons for the exceptionally low total cost of ownership. Another extremely high system availability thanks to minimal maintenance requirements. Get to print more applications Cool LED technology gives you extensive freedom of choice in materials. The newly developed ink set adds an extra touch: specially made for roll printing, it offers impressive flexibility, adhesion and a large colour gamut. With a formulation that is friendly to health and the environment (Greenguard Gold certified), printed products are even allowed into hospitals.
Cassette system
Any roll is loaded and ready to print within minutes, following just a few simple steps. Changing from one job to the next is equally fast, no matter how different they may be. Even novice users can easily operate the cassette system: Slide the material onto the pneumatic roll holder, centre and secure it. Then pull a length
of material over the print bed, secure it to the empty cardboard core at the front and close the cassettes on both sides. Now the only thing left to do is enter printing and material parameters into Lory, the output software, and production can start. Sensors and controllers inside the cassettes ensure correct web tension from the first to the final metre on the roll. The operator can easily switch to other tasks meanwhile, or simply take a break while counting on Karibu to do a great job.
Single or dual rolls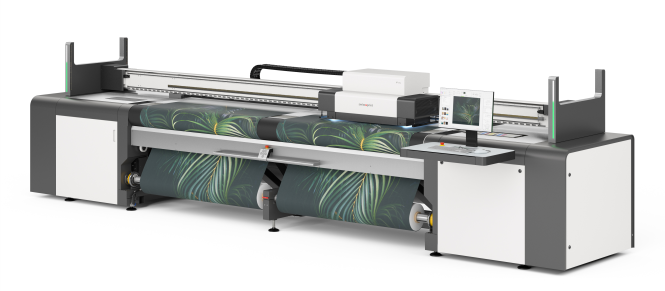 Karibu accepts rolls up to 3.4 metres wide and processes any job precisely and reliably. It becomes especially interesting if you routinely process narrower rolls up to 1.6 metres wide. Then you have a simple way to double your output by loading two side by side. For this, Karibu has a dual roll option that allows parallel production of two identical or different designs. Only the material thickness and print resolution need to be the same. Sensors and the control system continuously ensure optimal tension in both rolls, for impeccable parallel production.
Multilayer printing
Do you print window films or other transparent media, maybe with double-sided images and text? Then you will like multilayer mode. Whether mirrored, identical or different, Karibu prints multilayer designs on the medium with accurate registration. There is no chance of bleed-through because all the layers are printed in one go. White plays a crucial part in multilayer printing: as overprint (colour + white) or underprint (white + colour), for day and night applications (colour, white, colour) or for five-layer prints (colour, white, blocker, white, colour). Karibu easily handles them all.
Tip Switch Vacuum
Operators will become vacuum virtuosos. Because it feels like playing the piano – only you need just one finger: run it over the vacuum tip switches across the print bed width and open all 136 vacuum channels in just four seconds (patent pending). Once the roll is loaded, do the same to shut off channels to its left and right. And in the case of dual rolls, also the channels in the gap between them. Masking is now a thing of the past as you can switch the vacuum on or off in very small segments to avoid leaks. This allows the vacuum to develop its full force exactly where needed and securely hold down the substrate. To help you keep track, each switch has a green and red indicator to show its open or closed status. Incidentally, setting the vacuum is just as easy as the mechanical adjustment of it. It is done via Lory, the output software, which also ensures reliable feeding of material in combination with the machine control system.
To request more information kindly complete and submit the enquiry form below, alternatively contact our sales office here.

---
.