G3 CUTTER
Modular design concept
Zünd's modular tool and material-handling systems make it easy to tailor your G3 cutting system to specific cutting needs. Define your production requirements, and select the building blocks that will make up the perfect configuration for you. Additions and upgrades are possible any time.
Cut quality and precision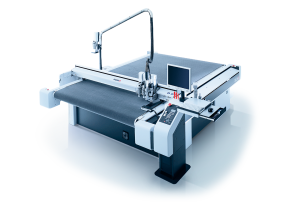 Zünd G3 cutting systems excel in delivering both exceptional productivity and unsurpassed cut quality. This is the result of a perfect symbiosis between intelligent control technology and precision mechanics.
Industrial use
With the technology and build designed for high volume production, the G3 flatbed cutter is uniquely qualified for industrial use and multi-shift, 24/7 operation. A worldwide service network ensures the availability of spare parts at any time.
Efficient material hold-down
Energy-efficient, adjustable vacuum generators provide optimal material hold-down. No longer do you have to worry about materials moving during processing. And besides the perfect cut quality, you will no doubt enjoy the reduced power consumption.
Productivity
The unsurpassed productivity of the G3 cutter series stems from the use of intelligent control technology, robust system components, and sophisticated tooling. Perfectly coordinated, all system components are guaranteed to optimize your production workflow.
---
S3 CUTTER
Modular design concept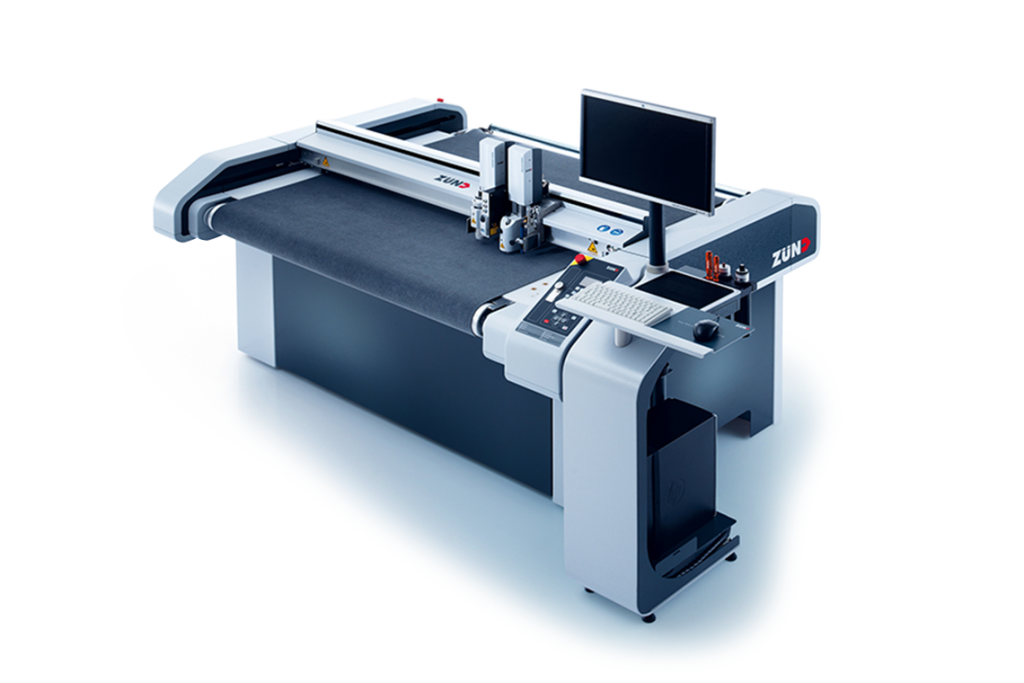 Zünd's modular tooling and material-handling systems make it easy to tailor your S3 system to specific cutting needs. Define your production requirements, and select the building blocks that will make up the perfect configuration for you. Additions and upgrades are possible any time.
Speed by design
The S3 cutter system is fast! This series' exceptional processing speeds are the result of intelligent control technology, an advanced drive system, and sophisticated tooling. Optimally synchronized cutting, perforating, marking and routing tools complete the system.
Adaptable production workflow
The design of the S3 multifunctional cutter permits variable production workflows. Carefully thought-out material-handling options increase your production capacity manyfold. With non-stop tandem operation, for example, loading, unloading and processing all occur at the same time.
Best price-performance ratio
The price-performance ration of the S3 is remarkable. Only proven technology and high-quality components have gone into the development of this system. The flexibility, reliability and quality of the S3 cutting table are unique and unsurpassed.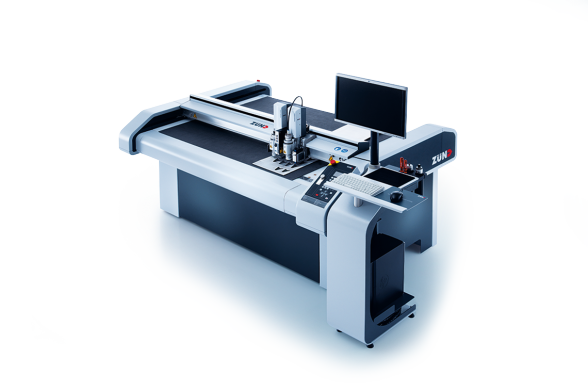 Solid reasons for Zund
Modularity
Zünd cutting systems are based on a design concept that lends them greater flexibility and adaptability than any others on the market can offer. Uniquely modular, our cutters can be cost-effectively configured and upgraded to meet ever-changing cutting needs. This contributes to an exceptionally high ROI and helps Zünd cutters retain their value for many years.
Profitability
Solid performance, outstanding quality. Tens of thousands of Zünd cutting systems all over the world are producing non-stop, delivering proof of their unparalleled profitability on a daily basis. Innovative techology and superior standards of construction guarantee low maintenance costs. Outstanding energy efficiency is yet another benefit of our products. Optimal processing methods, state-of-the-art vacuum generators, and sophisticated material-advance systems keep energy demands low and contribute to the eco-friendliness and sustainability of our cutting systems.
---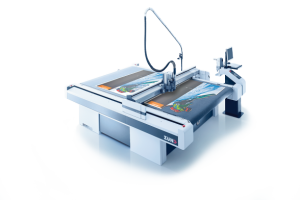 The right cutter for every segment

Graphics
Signage, intricate lettering, tradeshow exhibits or complex 3D displays: these products are as multifaceted as Zünd cutting systems. Zünd's modular building-block concept is sure to give you the perfect tool for every material – whether vinyl, cardboard, polypropylene, acrylic, foamcore or wood. With uncompromising, professional quality, Zünd cutting & routing systems let you convert your clients' ideas into products that make an impression.
---
Packaging
Samples or production… Zünd cutters always produce top quality! Looking for a solution that is perfectly tailored to your packaging application? Look no further… Every Zünd cutting and creasing tool has been industry-proven for all commonly used packaging materials. Convert your ideas into reality, and present your customers with proposed designs in seconds! Minimal setup allows you to react quickly and effectively to any subsequent changes. Your customers will be thrilled!
---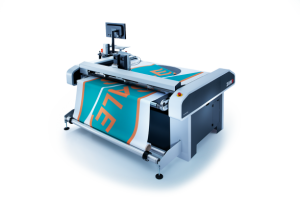 Textile
Whatever textiles or patterns made of paper, cardboard or plastic you may need to cut, our multi-functional cutting systems help you do it faster and more efficiently. Zünd can not only offer precise, productive and durable cutters but can also supply you with just the right cutting technology for your specific application. Our driven rotary tools, for example, are designed to cut a variety of textile materials with flawless precision. Every Zünd Cutter includes standardized interface options. With industry-specific solutions offered by our partners, you can easily expand your cutting system for custom applications.
---
Composite
You conduct ground-breaking research in composites, develop products and the perfect methods for manufacturing them… You build prototypes or produce highly specialized components in short series for customers with the most stringent quality requirements… You are confronted with the challenges of producing light-weight building products in large quantities… Zünd can offer you a modular, flexible, cost-effective expandable cutting system for processing various materials with impeccable precision.
---
To request more information kindly complete and submit the enquiry form below, alternatively contact our sales office here.

---