Dye Sublimation Inks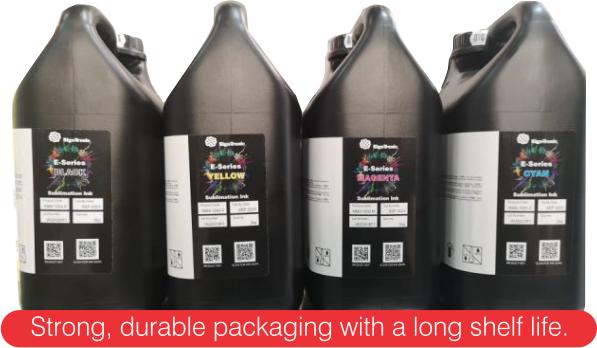 World-wide Suppliers of
Dye Sublimation Ink Solutions
Meticulous research and development and an in-depth understanding of the large format printing and colour management industries have resulted in SIGN-TRONIC developing a range of performance dye sublimation ink solutions. These ink sets deliver vibrant colours over a wide colour gamut.
E-Series Sublimation Inks
Our new E-Series range of sublimation inks are printer friendly and suitable for use on different textiles for a variety of applications. E-Series inks produce incredible colour brilliance, are fast drying and allows for printing on transfer paper as low as only 25gsm, thereby greatly reducing production costs and material waste.
Wide colour gamut wiht outstanding reproducibility of even Pantone TCX colours
Bright, vibrant colours wiht high optical density
Excellent image quality and sharpness
Solid blacks resulting in excellent dark images
Fast drying time
Improved colour stability
Available in 2l bottles in Cyan, Magenta, Yellow, Black