UV Ink Solutions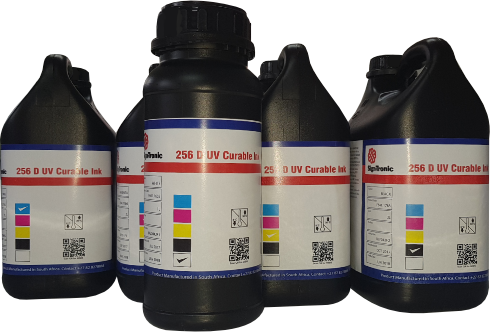 257D General Purpose Ink
A premium, competitively priced ink with excellent adhesion on tough surfaces fro example: EVA foam, Polypropylene (PP) with corona treatment, self adhesive vinyl (vehicle wraps) and stainless steel
No cold cracking or ink tackiness
Achieves fogra colour gamut with only CMYK
Highly resistant to scratching and weathering
Excellent colour gamut with vibrant colours
Available in: Cyan, Magenta, Yellow, Black, White, Light Colours and Bright Yellow
Outdoor rating: 5 years
257P UV Ink
Expand your service offering and generate higher profits with new business. No costly investments, just use existing UV printing equipment and reap the rewards.
Sign-tronic's revolutionary P-Inks inks print on incredibly broad range of substrates like wood, self adhesive vinyl, leather, leatherette, PVC banner, paper and even natural untreated/uncoated fabrics/textiles, like silk, cotton and linen.
Unlike traditional Dye-Sublimation printing our range of P_inks offer fantastic outdoor durability with no fading.
Washable and super flexible
Water and solvent resistant
Prints edge sharp text and logos with excellent color gamut qualities
Environmentally friendly with no traditional UV ink smell once cured
Cost effective "plug and play" conversion from your existing ink configuration
DELIVERY P-Ink CMYK plus White:  5 litre bottles, 2 litre bottles, 1 litre pouches OCE/Fuji, 2 litre pouches OCE/Fuji.