Nyala LED
Nyala LED is an imposing machine, so its economy and quietness may come as a surprise. Especially for such a capable printer: the 3.2×2 metre flatbed can take on board any commonplace format and handle virtually any type of material – even heat-sensitive ones. And it turns out convincing results even at the top speed of 206 m²/h. It's not for nothing that Nyala LED is our new, environmentally friendly flagship model.
Key figures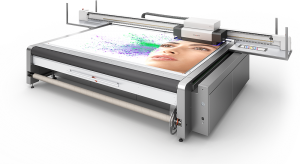 3.2×2 m flatbed
206 m²/h maximum productivity
9 freely configurable colour channels
Extensive material diversity, hassle-free operation
Thanks to LED curing, trouble with heat-sensitive substrates belongs to the past. Because the lamps literally keep a cool head, even while the printer is at its busiest. So you can calmly draw on your repertoire of materials and amaze customers with new tricks. And by the way, these lamps are ready to go at any moment. Warm-up and cooling won't waste you a second, thus maximising availability of your large format printer.
Small footprint, huge performance
Compare Nyala LED performance with its power needs and you get a surprise. Compared to its already economical Nyala 2 counterpart, this one draws only half as much electricity. And a second welcome fact: the LED lamps last as long as the UV printer itself. They will neither lose power over time, nor need replacement at some point in the future. That eliminates not only the need for spare parts with their associated costs, but also harmful waste.
Pleasant working, high quality
There's a hushed atmosphere around a Nyala LED as the pumps and other units are all whisper-quiet in operation. The versatile printer's ease and efficiency of use are just as gentle on the nerves, with ample practical assistance on hand for the operator. A warning is appropriate here: working with Nyala LED can result in happiness and pride.
---
Impala LED
Frugal space and power requirements, user and environment-friendly. Impala LED with its
2.5×2 metre flatbed has an amazing amount to offer: enormous material and application diversity, practical operator assistance, a powerful vacuum and great print quality. Maximum productivity of 180 m²/h makes Impala LED the unbeatable compact model.
Key figures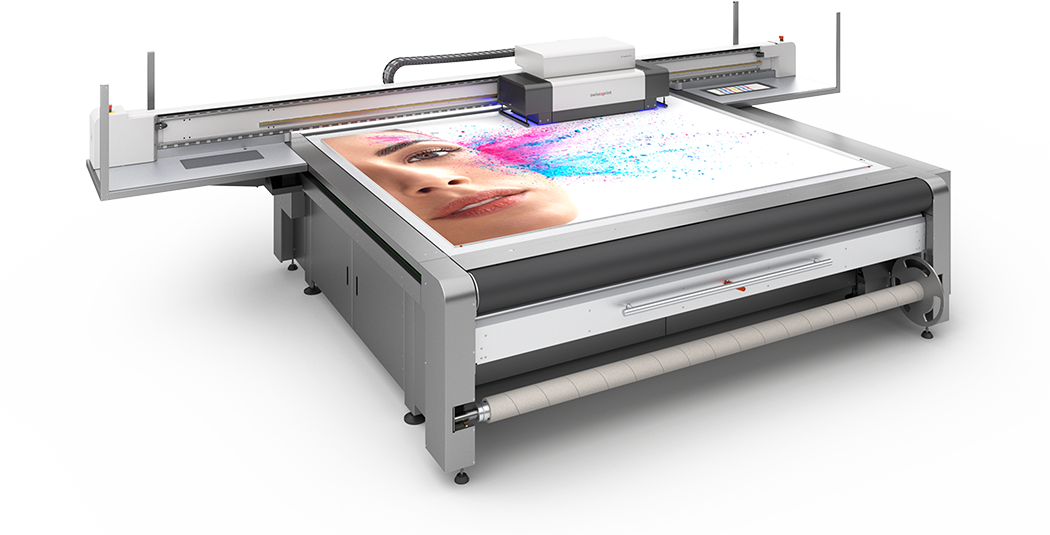 2.5×2 m flatbed
180 m²/h maximum productivity
9 freely configurable colour channels
New Applications
Less heat build-up makes it a pleasure to print difficult media such as textiles, delicate films, corrugated board, paper and similar. And who knows, this could be key to possibilities that conventional solutions cannot hope to achieve.
Crisp print image
Various printing modes meet every requirement. Even with high productivity, Impala LED delivers impressive results. The non plus ultra is fine art work, with its finest detail and vivid colours.
Modest overall cost
The purchase is one thing; operating costs are another. Impala LED delivers excellent price/performance on both fronts. The tasks that this expandable flatbed printer masters on its own would otherwise require a fleet of machinery. And because the LED lamps have the same life expectancy as the printer, you gain considerable savings on maintenance.
A clear conscience
It's nice when cost savings include protection of the environment. The longevity of the system and its low power consumption conserve resources. Operation is ozone-free and there is no toxic waste. So you can keep a clear conscience while getting the most out of your Impala LED.
Colours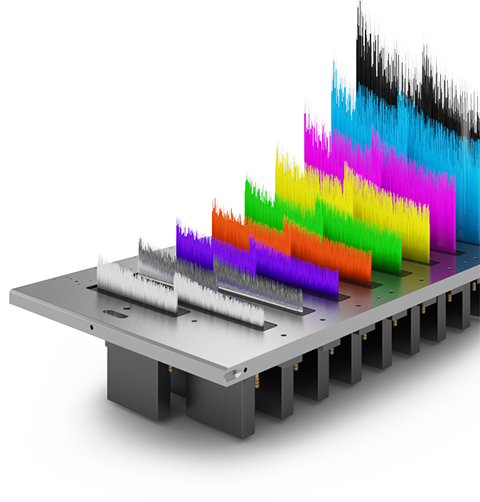 Inkjet printing is as colourful as the world around us. The CMYK standard is expandable to nine colours: they include light colours for recreating natural skin tones and fine shading, as well as white, special effects lacquer and even primer for printing on glass. Special colours such as orange, violet and green expand the colour space further still for even more Pantone colour tones.
All of the UV-hardened inks are VOC free. They bond on acrylic, aluminium composite panels, wood, tarpaulins and awnings, polyester, polycarbonate, polystyrene, (rigid foam) PVC, vinyl films, flexible foam panels and numerous other media. Suitable materials may be stretched after printing without any signs of stress whitening in the colour, thanks to the adequately flexible ink.
droptix
The eye-catcher par excellence. Lenses printed on transparent media work like a magnifying glass to produce optical 3D effects.
High availability
The printer is always ready to go, because LED lamps have neither a warm-up nor a cool-down time. In addition, the LED system is mechanically robust and maintenance-free. This practically eliminates interruptions to operation.
Greater media diversity
Cool LED curing enables stress-free printing onto difficult materials such as textiles, films and paperboard. Acrylic, aluminium composite panels, wood, tarpaulin, polyester, polycarbonate, polystyrene, (high-density) PVC, flexible foam panels, glass and metal are handled in any case.
Optimal curing
The output software regulates the UV output power of the lamps according to the material and the printing speed, so the user can concentrate on other things.
Safety
Should something or someone breach the light curtain surrounding the beam, the print head carriage will slow down to warn as well as protect the operator. Meanwhile, printing continues and there are no rejects.
Effect varnish
A stunning 3D effect that is otherwise only accomplishable with screen printing. Apply effect varnish through one of the nine colour channels for visual and tactile enhancement.
Continued printing after a crash
Crash Sensor Technology prevents damage and rejects, for instance, if the material thickness was entered incorrectly or corners on the medium are sticking out. The print head carriage stops if there is a hazard, and later continues at the exact pass position.
Multiple points of origin
The simple, quickly set registration pins are a unique feature. In addition to defining the zero-origin, they also provide additional mechanical attachment points: format-independent, with as many as required to make efficient use of the printing table area.
Economical and environmentally friendly
LED technology leaves a small environmental footprint. It significantly minimises power consumption, has no harmful constituents and generates zero ozone.
Swiss Made
SwissQprint systems are developed and manufactured in Switzerland and are characterised by precision, long service life, and robust quality down to the very last detail.
Product Brochures
Company Information
To request more information kindly complete and submit the enquiry form below, alternatively contact our sales office here.

---
.