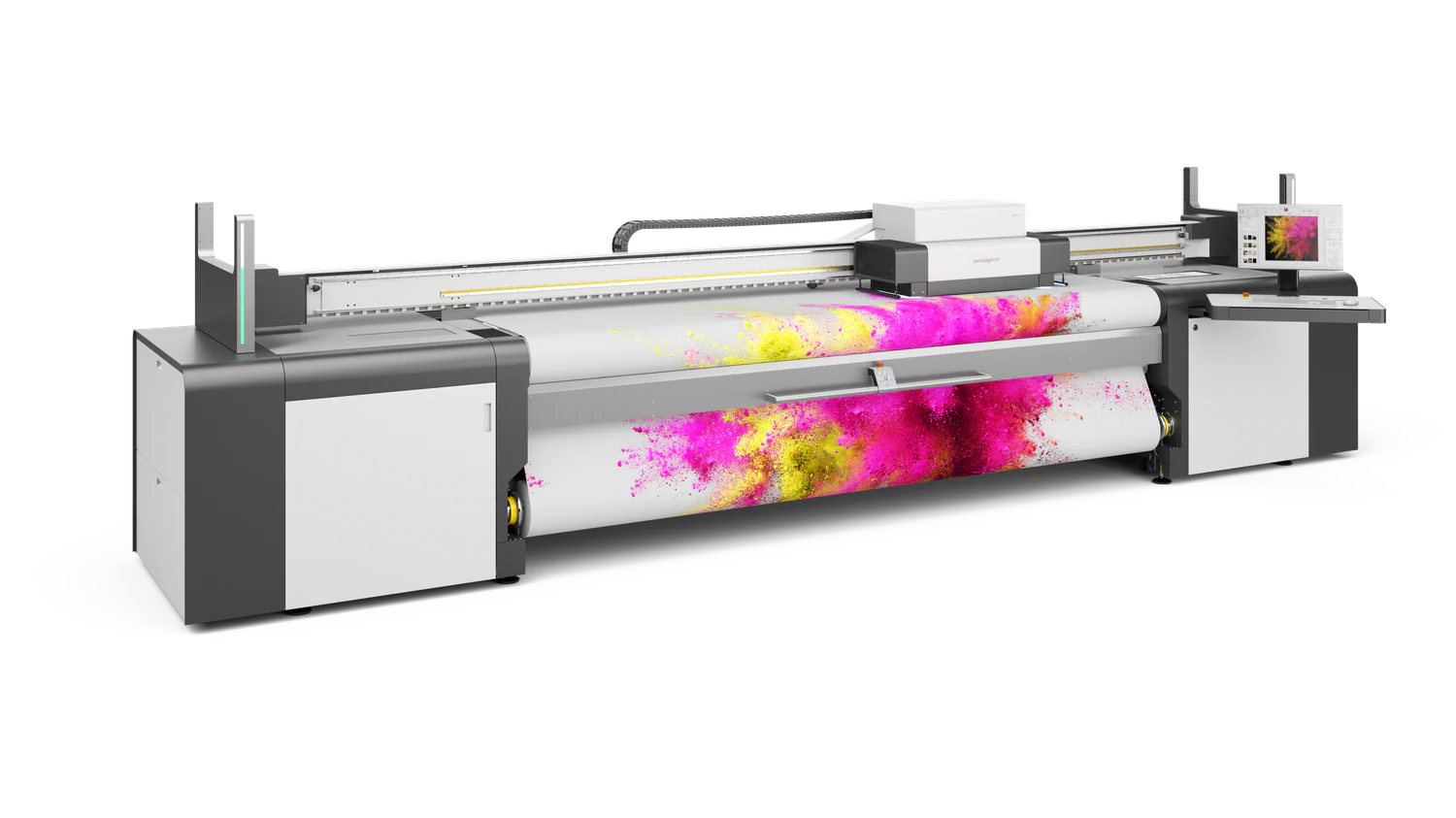 swissQprint Karibu
Karibu is all about efficiency, reliability and a huge variety of roll printing applications.
This large format printer incorporates the result of 20 years' development experience in UV inkjet printing, made better still by innovative technical solutions.
Karibu users have a clear competitive edge …
Get to your print more efficiently with unique roll to roll printer features powered by new output software.

Get to your print more reliably based on the decades of experience that have gone into Karibu and its 100% Swiss pedigree.

Get to print more applications thanks to cool LED technology and a specially developed ink set.
Neon
Attention grabbers: neon yellow and neon pink give printed materials that sensational look.

Varnish Effects
Karibu can enhance roll media by means of effect varnish. Be it applied partially, as an overall cover.

Customise your printer. We'll make it just for you.
Double-sided printing option
Automatic double-sided production. Done in no time! You can count on it.
Dual roll option
Karibu doubles productivity with parallel processing of two rolls up to 1.6 m wide.
Colours
9 colour channels are available. How would you like to configure them?
Extras elsewhere, but standard from swissQprint.
Cassette system
A powerful vacuum holds substrates flat and firmly in place.
Tip Switch Vacuum
Karibu features a controlled and finely segmented vacuum system with fingertip adjustment.
Light Box
Karibu users can monitor backlit prints practically in real time using the Light Box function.
Mesh Kit
Karibu does mesh and full bleed printing with no need for liner. And with no clean-up afterwards.
X-Control
Karibu's beam is movable between two defined positions: standard and mesh.
Multilayer printing
Mirrored, identical or different, Karibu prints multilayers onto transparent media with accurate registration.
Profitable LED technology
LED curing is cool. This means heat-sensitive media can join the portfolio and open up lucrative markets. 
Certified energy efficiency
swissQprint LED systems are all proven to be highly energy efficient (ISO 20690:2018). 
Key figures and model comparisons at a glance.
Productivity
| | |
| --- | --- |
| Top Speed | 212 m²/h |
| Production | |
| Quality | |
| Fine Art | |
Dimensions
Print Area
3400 mm

Material thickness

maximum 3400 mm / dual roll 2 × 1626 mm

maximum 200 kg / dual roll 180 kg each

maximum 380 mm

pneumatic roll holder for 3″ core diameter
Equipment/Options
| | |
| --- | --- |
| Curing | |
| | |
| | |
| | |
| | |
| | |
| | |
Colours
| | |
| --- | --- |
| Colour channels | |
| | |
| | |
| Light cyan, light magenta, light black | |
| White | |
| Varnish | |
| Orange | |
| Neon | |