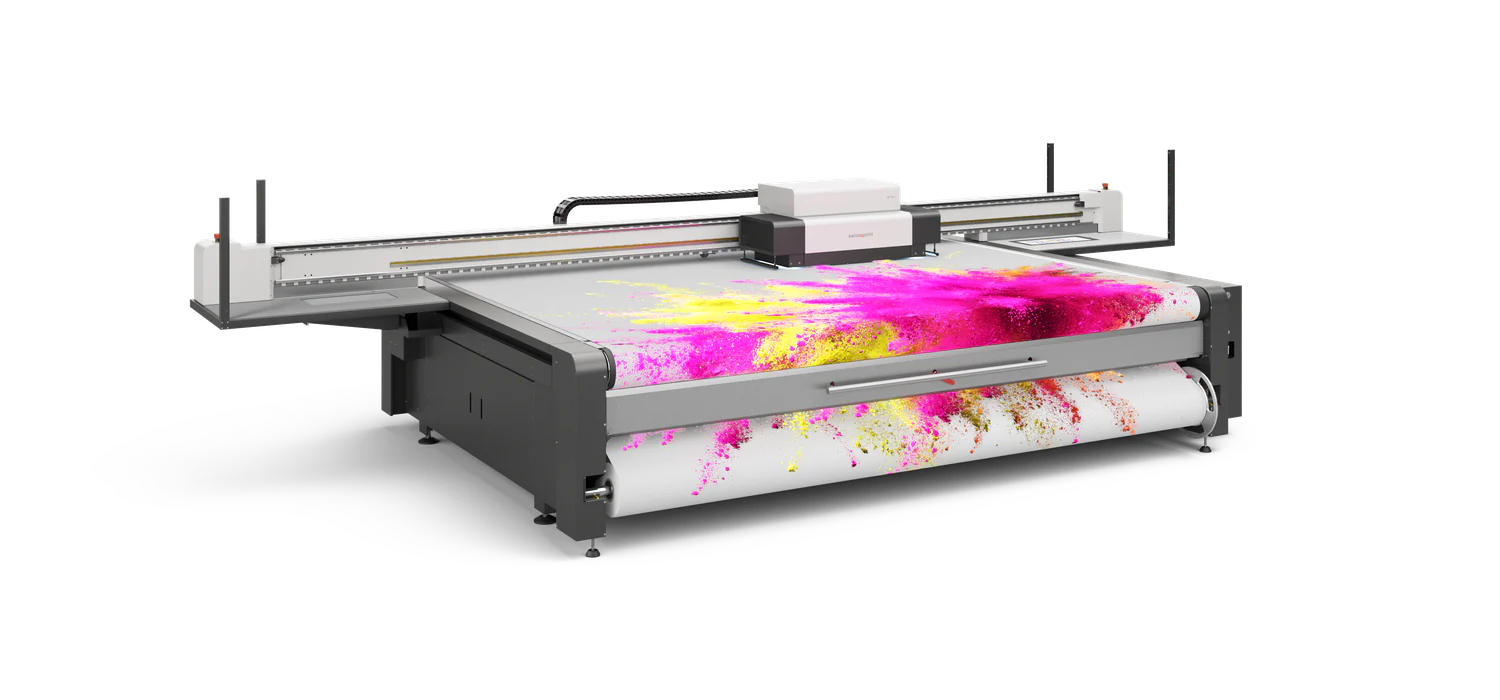 swissQprint Nyala 4
Nyala 4 is the symbiosis of premium print quality, multifunctionality and efficiency.
Nyala 4 is the symbiosis of premium print quality, multifunctionality and efficiency.
Nyala is the champion among all flatbed printers. For seven years in a row, it has been Europe's best-selling large format printer in its category. No comparable product offers better price/performance and more opportunities to stand out from the competition in terms of quality and quantity.
Print quality redefined
A Generation 4 Nyala trumps everything you and your customers have ever seen in terms of output quality. That's thanks to the latest print head technology and the precise droplet placement perfected by swissQprint. You get a maximum resolution of 1350 dpi on the medium.
Customise your printer. We'll make it just for you.
Roll to roll option
The roll to roll option converts the flatbed printer into a roll to roll printer.
Dual roll option
When it comes into play, the printer processes two rolls in parallel.
Glass option
Full bleed printing on glass panels. Clean and simple.
Colours
9 colour channels are available. How would you like to configure them?
Extras elsewhere, but standard from swissQprint.
Clever media retention
A powerful vacuum holds substrates flat and firmly in place.
Tandem
In tandem operation, machine and operator join forces for continuous, non-stop action.
Tip Switch Vacuum
The underpressure-controlled vacuum system is strong but quiet.
Exact register
swissQprint registration pins. They are set in no time and help to make full and efficient use of the print bed.
Just repeat
Printing a series of identical or different subjects with no additional RIP process? Nothing could be simpler.
Flip – double-sided printing
You can produce pinpoint registration with double-sided prints in no time, even with inaccurately cut media.
Profitable LED technology
LED curing is cool. This means heat-sensitive media can join the portfolio and open up lucrative markets. LED lamps
Blow function
The system can also blow, so heavy media float across the table.
No crushing crashes
Crash Sensor Technology prevents damage and rejects if the material thickness was entered incorrectly.
Resume printing after a crash
Despite all precautions, there has been a crash, and that on the final few metres? It's not the end of the world.
Key figures and model comparisons at a glance.
Productivity
| | |
| --- | --- |
| Top Speed206 |  m²/h |
| Production | |
| Quality | |
| Fine Art | |
Dimensions
| | |
| --- | --- |
| Flatbed, full bleed | 3240 × 2030 mm |
| Clearance | |
| Substrate weight | |
| | |
| | maximum 180 kg / dual roll 100 kg each |
| | |
Equipment/Options
| | |
| --- | --- |
| Curing | |
| Roll to roll option | |
| Dual roll option | |
| | |
| Print area, Tandem each zone | |
| | |
Colours
| | |
| --- | --- |
| Colour channels | |
| | |
| | 1 or 2 |
| Light cyan, light magenta, light black | |
| White | |
| Varnish | |
| Primer | |
| Orange | |
| Neon yellow, neon pink | |