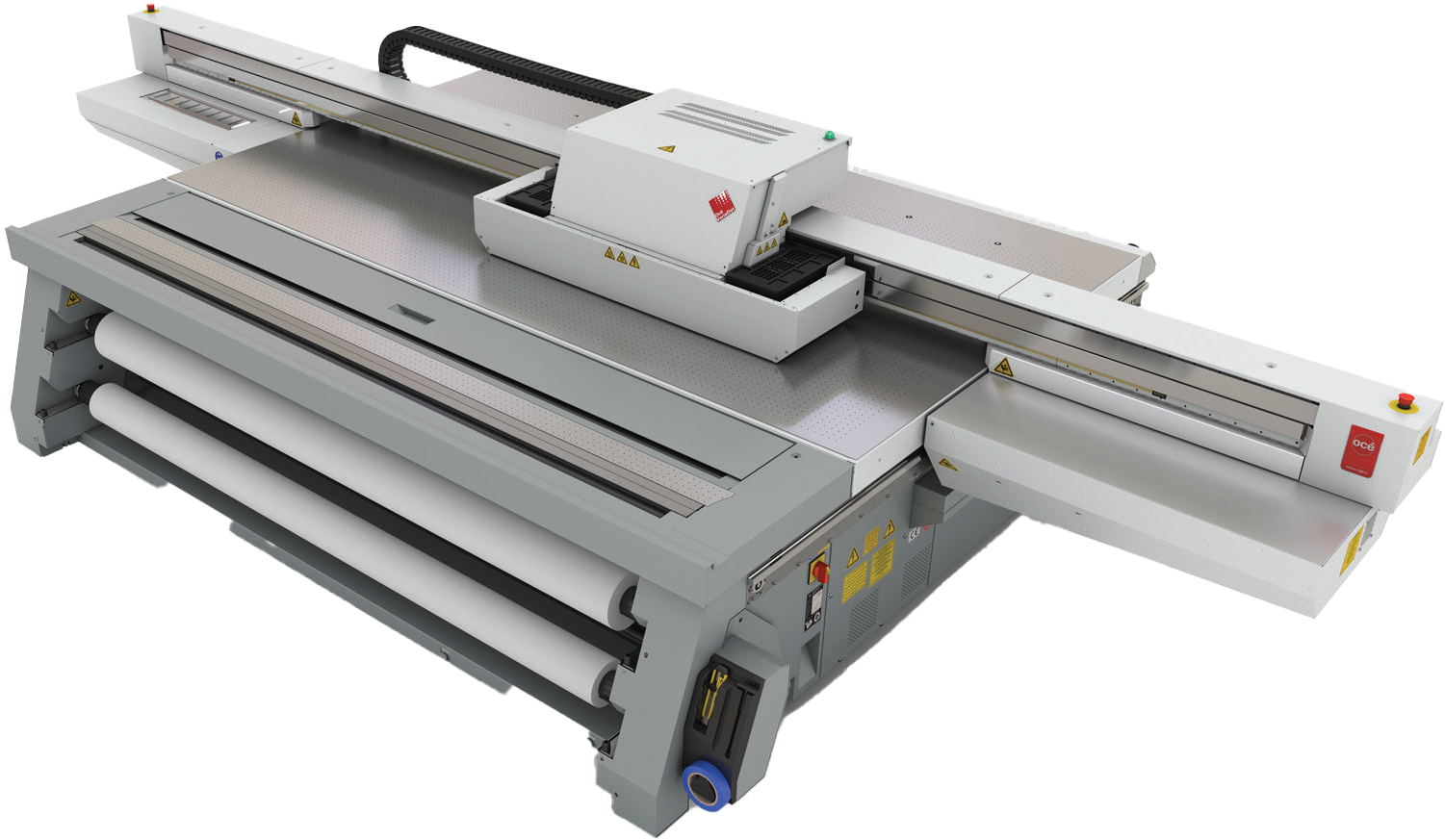 Arizona 1280 GT
Building on its market-leading predecessor, the new Océ Arizona® 1280 GT true flatbed printer offers unparalleled image quality alongside outstanding versatility across both flexible and rigid media applications.
The ultimate print quality
The Océ Arizona 1200 series of printers, including the new Arizona 1280 GT, takes the industry-leading Océ Arizona 400 series to a new level. The Arizona 1280 GT represents the highest quality true flatbed printer designed for mid-volume users. With its award-winning 8 channel Océ VariaDot Imaging Technology, the Arizona 1280 GT can use Light Cyan and Light Magenta inks to deliver the smoothest highlights and quartertones for fine art and photographic applications, or it can use the proven CM² ink configuration for fast and smooth production printing as demanded by sign and display applications.
Sustained quality across all media
By enhancing the Arizona range's industry-proven true flatbed architecture, the Arizona 1280 GT delivers stunning print quality on rigid media. For added versatility, choose the integrated Roll Media Option to achieve uncompromising print quality with flexible media applications. You're assured of accurate, uniform print geometry across the entire print area thanks to Active Pixel Placement Compensation.
Flexible, versatile and productive
With its standard table size, almost any imaginable assignment is easy to achieve using media or objects of any size – up to 50.8mm thick and as large as 1.25m x 2.5m. Adding the Roll Media Option extends your choice of applications to almost any flexible media up to 2.2m wide. An optional innovative Automated Printhead Maintenance System provides completely hands-free printhead cleaning in less than 25 seconds per colour, ensuring consistent nozzle performance print after print. The third-generation UV curing system ensures impressive results with even the thinnest, most heat-sensitive media. Impress customers and work more efficiently using the high-speed Production Fast mode that delivers high-quality output at an impressive 26.0 m²/h.
Enhanced ease of operation
Great new printing operations such as Step and Repeat and Mirror are now available on the printer's control panel. So you can easily make last minute adjustments to your production plan. An updated vacuum system provides both high-flow vacuum for effective pull-down of warped rigid media and high-pressure vacuum for reliable media hold-down during printing.
Arizona 1280 GT
Printing Technology

Piezoelectric inkjet using VariaDot® Imaging Technology

Two variable dot printhead per color

Format

True flatbed with vacuum table to hold rigid media or objects stationaryTrue roll-to-roll (with Roll Media Option)

Print Speed

Express33.6
Production20.4
Quality 14.2
Quality-layered (2 layers) 7.3

Resolution

Variable droplet sizes from 6 to 42 picolitres. The ability to vary the drop size to 6 picolitres produces sharp images with smoother gradients and quartertones. The ability to jet larger droplets up to 42 picolitres produces uniform colors. The result is near-photographic quality with sharpness only before seen at resolutions of 1,440 dpi or higher. Text as small as 2 pt. is perfectly legible (with High Definition mode).

Rigid media size

125 cm W x 250 cm L x 48 mm T

Rigid media printing width

Edge-to-edge (full bleed)