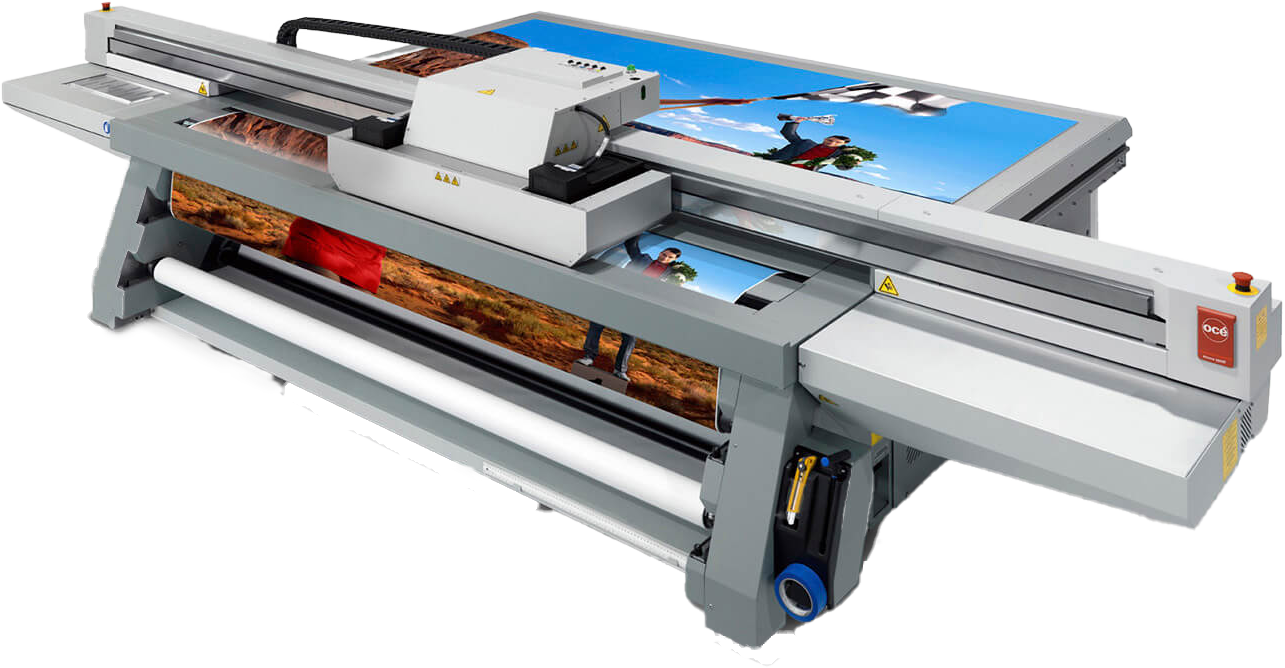 Arizona 360 GT
The Océ Arizona 360 GT builds on the success of the award-winning Océ
Arizona printer series.
Increased productivity and application versatility
The Océ Arizona 360 GT builds on the success of the award-winning Océ
Arizona printer series. This model offers new print modes designed to boost
your productivity and even greater application latitude to help you realize
more signage and display business. It also includes a new High Definition
print mode for detailed feature reproduction and the ability to print even
2-point text, opening the door to higher-profit technical and industrial
applications such as lenticular lens and membrane panel printing. With more
than 2,500 systems sold to date, the Océ Arizona 360 GT printer proudly
takes its place in the best selling series of UV flatbed printers in history.
Features
Print speeds up to 35 m2/377 ft2 per hour with saleable print quality and density
Text as small as 2-pt is perfectly legible
True flatbed design uses a vacuum system to hold media stationary on a flat surface, ensuring accurate registration for multiple over-prints or panels
New-style vacuum table and low heat lamps enable printing directly to very thin or heat-sensitive media
Print on irregularly-shaped or nonsquare items, heavy substrates such as glass, or materials that have an uneven surface such as plywood
The Roll Media Option can be added at any time, for printing onto most flexible media without interfering with the rigid printing workflow
The White Ink Option, which can
be added at any time, gives you the
ability to offer high-value, high-margin
applications to your clients
True flatbed printing
You don't need to settle for a hybrid printer when you can own the true flatbed capability of an Arizona 360 GT flatbed printer. You can also choose the factory-installed White Ink or add the Roll Media Option for added flexibility and maximum opportunity in producing point-of-sale displays, exhibit graphics, posters, banners, backlit graphics, and nearly any display graphics application your clients can imagine.
Arizona 360 GT
Printing Technology

Piezoelectric inkjet using VariaDot® Imaging Technology

Two variable dot printhead per color

Format

True flatbed with vacuum table to hold rigid media or objects stationaryTrue roll-to-roll (with Roll Media Option)

Print Speed

Express Mode up to 35.0 m2/hour
Production Mode up to 22.2 m2/hour
Quality Mode up to 15.3 m2/hour

Resolution

Variable droplet sizes from 6 to 42 picoliters. The result is near-photographic image quality with sharpness only before seen at resolutions of 1,440 dpi or higher. Print perfect text as small as 6 pt.

Rigid media size

125 cm W x 250 cm L x 48 mm T

Rigid media printing width

Edge-to-edge (full bleed)