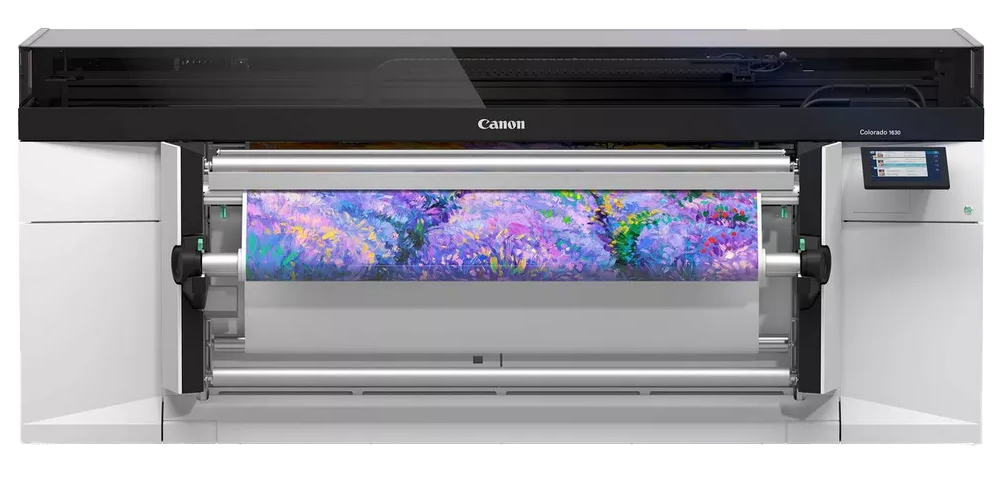 Colorado 1630
Fully modular UVgel roll-to-roll printer for large format graphics. Configure the base system to your needs, and upgrade later as your volumes grow.
Expand your horizons
Add the unique, proven benefits of UVgel technology to your roll-to-roll offering with the modular Colorado 1630. A smart choice for providers looking for flexibility. You can configure the base system to your needs, and upgrade later as your volumes grow.
Benefit from the award-winning Colorado image quality and safely rely on its productivity and unsurpassed automation. Meanwhile, your wide application range will astound your customers and help you differentiate from your competitors.
Reinforce your reputation as forward-thinking print provider with a Colorado series large format graphics printer, and confidently accept the most complex roll-to-roll jobs in-house.
Breakthrough productivity
Unique UVgel technology combines excellent quality, high productivity and extensive versatility with low TCO in one single printer. Unprecedented productivity with fast output speed and short drying time that takes you straight to finishing.
Unattended printing
The Colorado series is developed with unattended printing and effortless job switching in mind. Your operators will get more done in a day and be more satisfied in their work.
Low cost of operation
Save on running costs thanks to reduced ink and energy requirements plus inbuilt printhead reliability and low maintenance that ensure maximum uptime.
Colorado 1630
Printing Method
UVgel piezoelectric inkjet

Printing Modes

111 m2/hr – Max speed
78 m2/hr – High speed
55 m2/hr – Speed
39 m2/hr – Production
29 m2/hr – High quality
19 m2/hr – Specialty

Print Resolution

Ink Types

Ink Colour

Ink Packaging

1 x 0.7 litre ink bottle Ink reservoir can accommodate up to 1.8 litre per ink colour Refill while printing