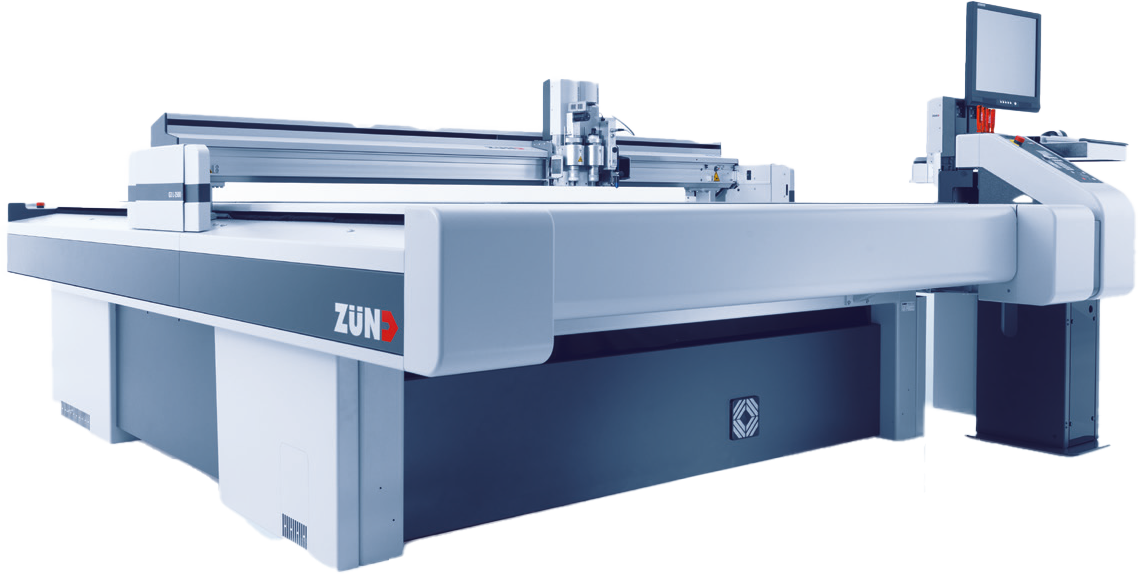 G3 Digital Cutter
Uncompromising performance & precision: The Zünd G3 flatbed cutter is extremely flexible thanks to a modular cutter concept.
Zünd G3 – perfection is in the details
Zünd cutters are high-precision machines. All components – from drive system to cutting blade – are designed and manufactured to work together perfectly. This lets you produce efficiently and wow your customers with perfect results.
Benefit from the award-winning Colorado image quality and safely rely on its productivity and unsurpassed automation. Meanwhile, your wide application range will astound your customers and help you differentiate from your competitors.
Reinforce your reputation as forward-thinking print provider with a Colorado series large format graphics printer, and confidently accept the most complex roll-to-roll jobs in-house.
Modular tooling system
Define which functions your G3 cutter has to perform and configure your modular Zünd tooling accordingly.
Integrated tool initialization
Quick, precise, time-saving: The setup for knives, router bits, and creasing wheels occurs through a fully automatic initialization system. Manual adjustments for determining proper cutting depths are no longer necessary. The ITI Initialization System makes the process quick and precise.
Optimal material hold-down
Energy-efficient vacuum turbines ensure reliable material hold-down during the cutting process. The vacuum area is divided into zones, which can be switched on and off individually across the width of the machine.
Process materials up to 110 mm/4.3 in thick
On a G3 cutting system, you can process materials up to a thickness of 110 mm/4.3 in. Depending on your requirements, the G3 can be configured with a beam height of 60 or 120 mm/1, 2 or 4 in. This means more flexibility and versatility in your production workflow.
Automatic Router bit Changer – ARC
The automatic router bit/tool changer ARC dramatically reduces set-up times and simplifies tool handling. The magazine can accommodate up to eight different cutting, polishing, or engraving bits. The bits needed for processing are automatically removed, clamped, initialized, and cleaned after each use. The ITI initialization system checks the zero point after each tool change, ensuring perfectly consistent routing depths.
Choose from 11 different sizes to select the perfect machine for your application.
Medium

Width (in mm/in)

1330 / 52

Length (in mm/in)

1600, 2500 / 63, 98

Large

Width (in mm/in)

1800 / 70

Length (in mm/in)

2500, 3200 / 98, 126

Extra Large

Width (in mm/in)

2270 / 89

Length (in mm/in)

1600, 3200 / 63, 126

2XL

Width (in mm/in)

2740 / 107

Length (in mm/in)

1600, 3200 / 63, 126

3XL

Width (in mm/in)

3210 / 126

Length (in mm/in)

1600, 2500, 3200 / 63, 98, 126