[fusion_builder_container hundred_percent="no" equal_height_columns="no" menu_anchor="" hide_on_mobile="small-visibility,medium-visibility,large-visibility" class="" id="" background_color="" background_image="" background_position="center center" background_repeat="no-repeat" fade="no" background_parallax="none" enable_mobile="no" parallax_speed="0.3″ video_mp4="" video_webm="" video_ogv="" video_url="" video_aspect_ratio="16:9″ video_loop="yes" video_mute="yes" video_preview_image="" border_size="" border_color="" border_style="solid" margin_top="" margin_bottom="" padding_top="" padding_right="" padding_bottom="" padding_left=""][fusion_builder_row][fusion_builder_column type="1_1″ spacing="" center_content="no" hover_type="none" link="" min_height="" hide_on_mobile="small-visibility,medium-visibility,large-visibility" class="" id="" background_color="" background_image="" background_position="left top" background_repeat="no-repeat" border_size="0″ border_color="" border_style="solid" border_position="all" padding="" dimension_margin="undefined" animation_type="" animation_direction="left" animation_speed="0.3″ animation_offset="" last="no"][fusion_text]
Océ Teams with Sign-Tronic to Show Streamlined Process using Océ Arizona® T220 Solvent Flatbed Printer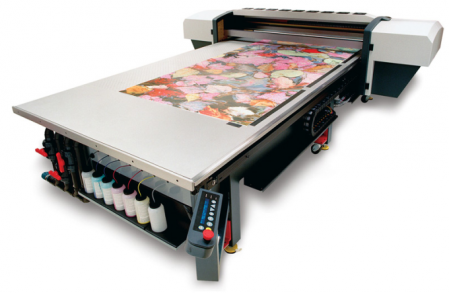 Minneapolis, Oct. 6, 2004 – Using panels printed on the Océ Arizona® T220 solvent flatbed printer, Océ (Nasdaq: OCENY) is demonstrating a new digital technology for producing three-dimensional signage that significantly streamlines the process over the traditional methodologies. Océ is demonstrating this process in conjunction with Sign-Tronic in Océ's satellite booth #619, with a video link to its main booth #1439, at the Specialty Graphics and Imaging Association / Digital Printing International (SGIA/DPI) conference in Minneapolis, October 6-9, 2004.T220.png
The Océ Arizona T220 flatbed digital inkjet printer is one component of a new process that significantly reduces the time and material costs required to produce three-dimensional signage and delivers a superior quality graphic. The Océ Arizona T220 can print directly onto a number of substrates used in the vacuum-forming process including polyvinyl chloride (PVC) sheets, acrylic and polystyrene. Once imaged, the panel is then vacuum-formed and ready for immediate installation.
Traditional Methods of Creating Three-Dimensional Graphics
The majority of vacuum-formed graphics are created using cut vinyl. This process starts with a sign blank that is first put through the vacuum-forming system. The vinyl is then applied – color by color – to the formed substrate. This labor-intensive process requires skilled application specialists who know how to apply vinyl around corners and how to align colors precisely. Since the color application is all done by hand, it can take several hours to complete. This process is also limited to blocks of color; no images can be produced using the cut vinyl process. A shop using this method must also maintain a good supply of vinyl in various colors, which often results in excess inventory that cannot be immediately amortized.
Some shops have adopted a screenprinting method, where a flat panel is imaged using solvent inks in a screen press, and then vacuum-formed. This method results in lower labor costs due to the elimination of the hand-application process, and there are also no vinyl material costs. However, set-up costs associated with creating screens can be prohibitively expensive for one-off or low-volume jobs. Additionally, while the quality of images produced by this method is acceptable, digital printing quality surpasses screenprinting particularly when reproducing images.
Océ Arizona T220 Streamlines Process, Delivers Superior Quality Graphics
The Océ Arizona T220 / Sign-Tronic application increases throughput, reduces costs and produces extremely high quality graphics. By first printing directly onto the flat, unformed sign blank using specially formulated inks, and then vacuum-forming after the printing is complete, a three-dimensional sign can be finished in less than one hour. There are no vinyl materials or screen set-up costs. The colors in the finished product retain their density and consistency, even after the stresses placed on the substrate during vacuum-forming. Consistent print quality of 600 apparent dpi using Océ ColorBlend® six-color technology is maintained throughout the image.
About the Océ Arizona T220
The Océ Arizona T220 is a solvent ink outdoor durable flatbed inkjet printer that can print to a variety of uncoated or coated, rigid or flexible substrates up to 62 inches wide by 120 inches long by 2 inches thick. Production print speeds are up to 180 square feet per hour in four-pass mode. A vacuum system holds media stationary on a flat surface, ensuring accurate registration, even on multiple imaging passes. Full bleeds can be printed, saving time and labor costs in finishing. No minimum print size means just the necessary materials are used with no substrate waste.
The Océ Arizona T220 can produce a wide variety of display graphics including exhibit graphics, point-of-purchase displays, proofs and comps, plus specialty items such as custom tiles and furniture panels, and window blinds. It can print directly onto a variety of uncoated or coated rigid or flexible substrates such as foam-core style mounting board, vinyl, tile, PVC sheets, carpet, and more.
The Océ Arizona T220 won the DIMA 2003 Award for Creative Application: Alternative Substrate, for printing directly onto furniture panels that were then assembled into a chest-of-drawers. It was also named Innovative Product of the Year by DIMA in 2003.
Availability
The Océ Arizona T220 is available now with standard Océ T220 solvent inks. Availability and pricing for the specially formulated vacuum-forming inks will be announced at a later date. Customers interested in this vacuum-forming process can purchase the Océ Arizona T220 and vacuum-form inks from Océ. Sign-Tronic will provide installation, training and application support and will offer custom software used to create the three-dimensional wireframe for the vacuum mold. The vacuum-forming equipment can be purchased separately, or the service can be sub-contracted to a third party.
About Océ
Creating global leadership in printing
Canon and Océ have joined forces to create the global leader in the printing industry. Our customers can choose from one of the industry's broadest range of products backed by best-in-class service and support organizations. Look to the new Canon-Océ combination for:
Enterprise printing in the office and corporate print room
Large format printing of technical documentation, signage and display graphics
Production printing for marketing service bureaus and graphic arts
Business Services for document process outsourcing
As the majority stakeholder of Océ shares, Canon has awarded Océ the official status of a Canon Group Company. In Océ communication such as websites, printed matter and signage the Canon Group Composite Logo is now displayed together with the Océ logo.
[/fusion_text][/fusion_builder_column][/fusion_builder_row][/fusion_builder_container]