[fusion_builder_container hundred_percent="no" equal_height_columns="no" menu_anchor="" hide_on_mobile="small-visibility,medium-visibility,large-visibility" class="" id="" background_color="" background_image="" background_position="center center" background_repeat="no-repeat" fade="no" background_parallax="none" enable_mobile="no" parallax_speed="0.3″ video_mp4="" video_webm="" video_ogv="" video_url="" video_aspect_ratio="16:9″ video_loop="yes" video_mute="yes" video_preview_image="" border_size="" border_color="" border_style="solid" margin_top="" margin_bottom="" padding_top="" padding_right="" padding_bottom="" padding_left=""][fusion_builder_row][fusion_builder_column type="1_1″ layout="1_1″ spacing="" center_content="no" hover_type="none" link="" min_height="" hide_on_mobile="small-visibility,medium-visibility,large-visibility" class="" id="" background_color="" background_image="" background_position="left top" background_repeat="no-repeat" border_size="0″ border_color="" border_style="solid" border_position="all" padding="" dimension_margin="" animation_type="" animation_direction="left" animation_speed="0.3″ animation_offset="" last="no"][fusion_tabs design="classic" layout="horizontal" justified="yes" backgroundcolor="#ffffff" inactivecolor="" bordercolor="" hide_on_mobile="small-visibility,medium-visibility,large-visibility" class="" id=""][fusion_tab title="Products" icon="fa-shopping-basket"]
Obelisk Turbo S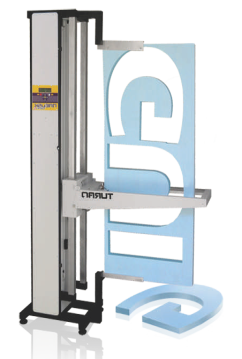 With the new OBELISK hot wire foam cutter sign makers can produce complete illuminated 3D XPS foam signage or letters with a brilliant finish, BETTER and CHEAPER. Precision cut the sign face, return and backing from XPS foam and illuminate with LED's. REDUCE your labour costs and IMPROVE productivity, whilst offering customers a new exciting concept in sign making.
Back illuminated XPS foam exhibits bright, uniform light with no visible join lines and can be cut to tight tolerances, meaning creative, fine detailed illuminated letters or shapes can be produced. With XPS foam cut returns you have the ability to vary the return thickness to optimise light transmission in tight areas. Sign faces can be customized with traditional vinyl graphics, direct digital prints or just left brilliant white.
XPS foam is eco-friendly, cost effective, rigid, versatile and offer a 5-year exterior warranty when properly coated with Sign-tronic XPS Liquid Coating. The foam does not absorb water, is easy to finish and install and contains fire-retardants, making it a perfect solution for retail applications. Ultra light, XPS foam signs and displays are ideal for ceiling mount or suspended applications and easy to transport and install. Just use the foam cutting waste as protective packaging. Cost savings of up to 90% versus traditional fabricated signage can be realized!!!
But, its not just illuminated signs you can make…
3D XPS cutting with the OBELISK has almost no limits. You can produce professional, lightweight signage, logos, in-store retail displays, wall decor, decorative / shop-fitting elements, packaging, architectural shapes, theater props, set design elements, hobbies, crafts, toys and much more… Standard 3D foam cut letters and designs can be produced in different thicknesses up to 80mm or finished with step-cut layers. Apply self-adhesive vinyl or do a direct digital print. Laminate the face with another layer of a different coloured XPS foam, acrylic, ACM or even wood. Apply glitter or paint techniques, even textured backing boards can add a different dimension. Let your imagination take over and get creative!!!
[/fusion_tab][fusion_tab title="Features" icon="fa-info"]
A professional, easy to operate machine with a footprint of less than a square meter when in operation, the Obelisk is capable of cutting a maximum foam sheet with a size of 1250mm x 600mm and a thickness up to 100mm.
Technical Data
Height: 1750mm
Length: 1180mm
Width: 380mm
Weight: 47 kg
Voltage: 220V
Maximum Power: 0.2A, 40Q
Length of Wire: 130mm
---
XPS illuminated sign construction
[fusion_youtube id="https://youtu.be/Bws2AD6hbRQ" alignment="" width="" height="" autoplay="false" api_params="" hide_on_mobile="small-visibility,medium-visibility,large-visibility" class=""][/fusion_youtube]
[/fusion_tab][fusion_tab title="Downloads" icon="fa-cloud-download"]
Product Brochures
[/fusion_tab][fusion_tab title="Request More Information" icon="fa-envelope-o"]
To request more information kindly complete and submit the enquiry form below, alternatively contact our sales office here.

---
.
[/fusion_tab][/fusion_tabs][/fusion_builder_column][/fusion_builder_row][/fusion_builder_container]