[fusion_builder_container hundred_percent="no" equal_height_columns="no" menu_anchor="" hide_on_mobile="small-visibility,medium-visibility,large-visibility" class="" id="" background_color="" background_image="" background_position="center center" background_repeat="no-repeat" fade="no" background_parallax="none" enable_mobile="no" parallax_speed="0.3″ video_mp4="" video_webm="" video_ogv="" video_url="" video_aspect_ratio="16:9″ video_loop="yes" video_mute="yes" video_preview_image="" border_size="" border_color="" border_style="solid" margin_top="" margin_bottom="" padding_top="" padding_right="" padding_bottom="" padding_left=""][fusion_builder_row][fusion_builder_column type="1_1″ layout="1_1″ spacing="" center_content="no" hover_type="none" link="" min_height="" hide_on_mobile="small-visibility,medium-visibility,large-visibility" class="" id="" background_color="" background_image="" background_position="left top" background_repeat="no-repeat" border_size="0″ border_color="" border_style="solid" border_position="all" padding="" dimension_margin="" animation_type="" animation_direction="left" animation_speed="0.3″ animation_offset="" last="no"][fusion_tabs design="classic" layout="horizontal" justified="yes" backgroundcolor="#ffffff" inactivecolor="" bordercolor="" hide_on_mobile="small-visibility,medium-visibility,large-visibility" class="" id=""][fusion_tab title="Products" icon="fa-shopping-basket"]
Technical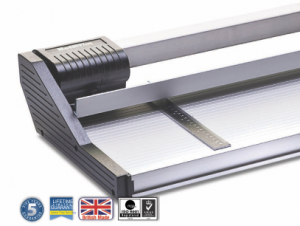 Robust trimmer with extra capacity for the more challenging materials
Self-lifting clamp mechanism enables a single user to easily position and cut large materials
Overload protection feature
Range of cutting lengths from 0.65 metres up to 2.5 metres
Ultra hard Sheffield D2 'Tool Steel' self-sharpening, precision engineered blades
Large single square stainless steel guide rail completely eliminates head swivel
Aluminium baseboard, end frames, head and side rule
---
..
Power Tech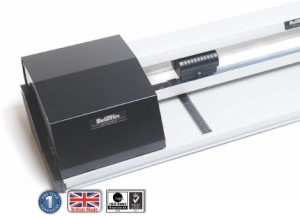 Power driven large format, precision, robust trimmer
Optional high speed and normal speed variants
Foot pedal operation with automatic safety clamp enables a single user to easily position and cut large materials
Cuts a wide range of materials without adjustment
Overload protection feature
Range of cutting lengths from 0.65 metres up to 2.5 metres
Ultra hard Sheffield D2 'Tool Steel' self-sharpening, precision engineered blades
Large single square stainless steel guide rail completely eliminates head swivel
Aluminium baseboard, end frames, head and side rule
[/fusion_tab][fusion_tab title="Features" icon=""]
The world's finest cutting equipment since 1966

Rotatrim was formed in 1966 with a vision to create the finest rotary trimmer ever; a philosophy and a passion that continues to this present day.
Using only the finest quality materials and precision engineered components, each trimmer is hand assembled by skilled technicians to exact tolerances, to construct a precise, exceptionally reliable, ultra durable trimmer. Each machine goes through a process of stringent quality checks at manufacture and assembly to ensure you receive what you have come to expect… the world's finest rotary cutting equipment
[/fusion_tab][fusion_tab title="Downloads" icon="fa-cloud-download"]
Product Brochures
Powertech Brochure
Technical Brochure
[/fusion_tab][fusion_tab title="Request More Information" icon="fa-envelope-o"]
To request more information kindly complete and submit the enquiry form below, alternatively contact our sales office here.

---
.
[/fusion_tab][/fusion_tabs][/fusion_builder_column][/fusion_builder_row][/fusion_builder_container]